As evidenced by every single post I have posted, I am going to need to film what is going on around me. But every video I have done –except for the first one– has been using the Canon FS11, a beautiful and albeit expensive camera that is beautiful and I love it. But it's not mine, it is the schools, and taking it would break school code, as well as state and federal laws would be shattered. SO it is out of the question (not that the questioned was even considered)

My First Camera, the one I take pictures with is good for pictures, the frame is small, and blocky, so it doesn't look HD at any length. It takes good photos, on the right settings, but takes okay, very OKAY videos, but it's my backup plan for later. I feel that I need a new one, an HD one, one that doesn't cost a fortune and isn't totally icky. SO I have a decision, What camera do I use?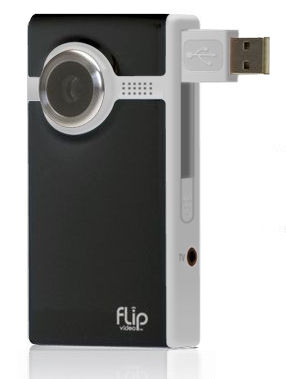 I could get a flip video camcorder, which fits in my pocket and gives great video, which is HD. It's small, pocket size, and overall is very convenient with it's built in USB drive. It works with every single kind of computer (PC or Mac) but when it comes down to it, with everything built in, it is a very helpful thing, not having to install any software what soever. But the camera runs on Proxy-Connection: keep-alive
Cache-Control: max-age=0
batteries –FOR TWO HOURS– and rechargeable batteries eventually do die, but they have to repeatedly be charged over and over and over, until they die. Depending on the memory, as there is no expansion slot for an SD card, it is 100% internal. Rounding at about 2 hours of actual recordable time, or 4 hours if a more pricier model is bought. Price $100 to $200.
Then there is the Sanyo Xacti VPC CG10, a pistol gripped camera that does a lot for it's affordable price of $150. It can record almost 4 hours on it's highest HD settings with a battery life I am not sure about, but it is removable, so I can have extras. There aren't many things wrong besides the image stabilizer, possible batterie life, the mic being in a bad place, it's pictures are really bad, It doesn't have 1080p as a setting but it does have 720p but not much else.

An upgraded model of that has come into question, the Sanyo Xacti HD1010, which is the same design, but the price is about $350, unless you find a deal, it can actually be more, so... But it has all the same features, except it can be filmed in 1080p and 720p, it also has a slow motion setting, even though it messes with the frame, and I do not believe there is any sound, (good for montages or to have recorded over with sound) but the only things wrong with it are the image stabilizer, the battery and some other things that I wouldn't know (because I don't have one).
Then there is an even more upgraded version of it, the Sanyo Xacti HD 2000, again same design, a bit pricer (a good deal can be found at about 350 to 450 dollars) There isn't much different but they say that filming in low light is really bad, as there isn't a built in sustainable light, as all the others are missing it as well. But I don't think it would be that much of a problem, the battery is a little short in the higher functions, but I am rarely going to shoot in the high 1080p because it's really not too necessary.
There is one more I have been looking at, the Kodak Playsport, another handheld camera that unlike all the rest is water resistant and is actually encouraged to be used at the beach or pool, basically anywhere wet, It can go to about 10 ft. The price is only $150, and it's much smaller than the Sanyos. But the 1080p is in question as well as the overall performance. It really is pretty good for it's price.
So there are my choices for this moment, if anyone has any ideas. Comment, because here are the choices, The camera I am bringing for photos, the flip, of the Sanyos, VPC CG10, HD1010, HD2000, and the Kodak Playsport. I honestly cannot make up my mind, and I really want to take one of these. My dad said that if I pay $300 he will pay for the rest. But the major thing I need is a good camera with a good battery, image overall, good memory, and easy to use with a computer. So if you have any ideas COMMENT, I welcome it.